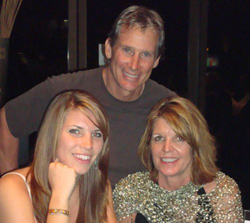 Twenty Four years ago we decided to move from my hometown of Los Gatos to the Sierra Foothills in search of a better place to both raise our daughter and relocate my husbands manufacturing company from Sunnyvale. After Living in Tahoe for two years while searching for our perfect foothill location we settled at the Lake of the Pines – Lake Combie area. Here we found a wonderful school district, a wonderful lakefront property (we are still pinching ourselves) and the quality of life and recreation we wanted for our family.
I joined Gateway Real Estate some 22 years ago. After working for two years I decided to specialize in one segment of the market. I felt that trying to cover all areas of real estate in an area this large did not benefit my clients. At this point, I decided to focus all of my attention on Estate and Lakefront properties. For the past 22 years I have been successful in marketing and selling lakefront and estate properties and have been a top producer in this marketplace.
Having owned two lakefront properties in California, I feel I have a great appreciation and knowledge of the lakefront lifestyle and its unique issues. Furthermore, because I specialize in one type of property, I can devote much more time, knowledge and expertise to each one of my clients and properties.
My family and my reputation in business come first. My philosophy in business whether representing buyers or sellers is to follow the "Golden Rule" in conduct and integrity.
Lakefront property is unique… shouldn't you choose an agent who specializes in it?
As Predicted by Harry S. Dent Jr., in the book, THE "ROARING 2000's", vacation and lakefront properties are in high demand by "affluent baby boomers" who are reaching their peak vacation home buying cycle. It is my belief that even in a recession lakefront properties will hold their value far greater than normal residential properties. They are not building or developing new lakes in California and therefore the uniqueness of a lakefront lifestyle will always be sought after.
Unique and special properties such as estate property and lakefronts need special marketing attention. If you are considering buying lakefront property or would just like to know the current value of your property, please read on….
EXPERIENCE
– Gateway Real Estate/Realtor Associate
– Founding Member Nevada County Masters Club
– Top Producer for Gateway Real Estate
– 20 years of experience in the areas of marketing, commercial & industrial development, title and escrow and economic development in the Bay Area.
– Associate Director, Economic Development, San Jose Chamber of Commerce. 1977-1986
– Assistant Vice President, Commercial / Industrial Development, Ticor Title Insurance. 1986 – 1990